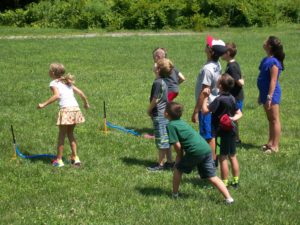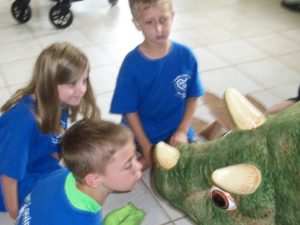 K- 8 Field Trip Offerings
Ready to schedule your class for awesome science adventures? DASEF field trip programs are aligned with the Delaware State Science Standards and STEM, which makes them a great choice for all students. Engaging in hands on activities, students will have opportunities to apply what they learn in a team building environment.  **These programs can also be brought to your school for an additional $1 per student.  
Due to weather and other conditions, we may, in some instances, have to substitute certain lessons.
Length: 2 hours during a school day
Fee: $5.00 per student (field trip), $6 per student (outreach)
Teachers and chaperones are free of charge.
Kindergarten
Forces that Push and Pull – Explore pushing and pulling forces, including connecting movable gears, making a marble roller coaster, testing cars on ramps, and assembling a "make-and-take" climbing creature.   
In the Sky at Night – Learn about Earth's movement by looking at constellations in the StarLab planetarium.  
Trees Are the Same and Different – Examine and compare different seed and leaf samples, assemble a "tree" from the roots up as you make a tree booklet.
Weather in Your Life – Make a weather wheel and use it to discuss weather predictions, dress a weather bear for different weather conditions, show about the water cycle and types of weather, tour of DASEF's weather monitoring station, design a sunlight shield structure. Learn about wind and make a kite to take back to school.
First Grade
Between and Beyond Solids and Liquids – Make a polymer called "gluep"; use seltzer rockets to see the power of gases in action.  Identify properties of solids, liquids, and gases that make each unique, and learn what they all have in common. 
NEW! Predictable Patterns: Sun, Moon, and Stars – Learn about the phases of the moon, the predictable rising and setting of the sun and the moon. In the StarLab Planetarium, learn when and why stars are visible at night, but not in the day (except for our sun), and why there are different amounts of daylight throughout the year.
NEW! Waves: Light and Sound – Make a wave machine to show how light/sound energy travels. Explore the concept of sound waves using "Boom Whacker" sound tubes, make sounds of different volumes and pitches using various materials. Have fun with optical illusions, complete a mirror maze, use different materials to show light behavior and the properties of light.
Inside Plants and Animals – Compare skeletons of different animals with regard to structure and function; examine parts of a tree seedling; study how seeds change as they grow; investigate variation in types of seeds of fruits and vegetables, plant and take seeds back to the classroom; study life cycle changes of butterflies and ladybugs; nature walk to study structure and adaptations of plants and trees.
Second Grade
NEW! The Ever-Changing Earth – Model how wind and water shape the earth and how humans can slow or prevent these changes, make a topographical map to show landforms and bodies of water. Identify earth events that occur slowly, and those that occur quickly to change the earth's surface.
Bridges: Spanning with Strength – Introduction to forces of tension and compression and how they function in bridge designs; small group problem-solving and construction challenge; presentation and testing of bridge designs; exploration with bridge building kits.
Digging into Soil – Examine soil samples and the water retention and filtration properties of soils; use hand lens observations of  soil characteristics; make compost containers to take back to the classroom; create a "wormy" painting with soil as "paint".
Third Grade
NEW! Climate: Weather or NOT? – Learn the difference between climate and weather, design a solution that would reduce the impact of a weather related natural disaster, study maps to explain why climates are different in different regions of the earth.
NEW! Organisms: Past and Present – Examine the similarities and differences in the life cycles of organisms, study how fossils are formed and how fossils provide evidence of environmental changes, create a habitat that illustrates why some organisms survive quite well and others don't under the same circumstances.
Attractive Science: Magnets – Review of magnetic properties; use magnets with iron filings, paper clips, and ball bearings to view magnetic fields, predict and test strength of attraction, magnetic permeability of materials, and induced magnetism; magnetize and demagnetize nails; explore the power of repelling magnets with a "magnetic canon". 
Fourth Grade
Motion and Design: Pinball and Roller Coasters – Review forces and motion with short film; examine energy and gravitational force on falling objects; two group challenges: given materials and requirements, design and build a marble roller coaster and a pinball machine.
Sculpting the Earth – Examine soil samples, model landscape on a stream table to examine erosion and human effects on land and water, identify satellite images of earth's many different land forms.
Structures of Life: Designed to Succeed – Investigation of fruit and vegetable seeds; magnified observation of seeds; compare and contrast sprouted seeds of various plants; nature walk to collect plants, observe and draw root systems; compare animal skeletons of different species with regard to movement and survival; compare body designs of various insect specimens. 
Fifth Grade
NEW! Energized by the Sun – Create a model that shows the sun as the source of the energy needed by animals to survive. Using a food web, trace the food of most animals back to plants, and show how the balance of an ecosystem can be damaged by an "invasive" species.
Between and Beyond Solids and Liquids – Make a polymer called "gluep"; use seltzer rockets to see the power of gases in action.  Identify properties of solids, liquids, and gases that make each unique, and learn what they all have in common. 
Silent Travelers: Earth, Moon, and the Planets – Examine satellite photos of the lunar surface, earth, and the planets; examine star "movement", lunar phases, and our solar system in the Star Lab planetarium; design and build a lunar/planetary rover.
Sixth, Seventh, and Eighth Grade
Earth's Geological History – Power Point slides of water and land forms with regard to formation through deposition and erosion; small group work – modeling land and water forms on sand/water tables; movie – Fossils; illustrated discussion of plate tectonics, volcanoes, and earthquakes; viewing fluorescent minerals and other mineral samples.
Energy and Its Effects: Producing Electricity – Power Point slides of wind and water electricity generation in the past, present, and future; building tour and discussion of active and passive transfer of energy from solar to electric; and static and current electricity investigations.
Ever Changing Earth Systems – global weather patterns in StarLab planetarium; small group investigation of weather; Power Point slides of water/ land forms with regard to erosion & deposition; small group investigation with stream tables.
Investigating Force and Motion – Record results of movement of rolling balls of varying materials; calculate and graph their speed; demonstration of the transfer of energy through simple machines; investigate simple machines as used in various tools; small group work to design a device that combines simple machines to accomplish a task.
Investigating Near-Earth Objects – Lunar study in StarLab planetarium including lunar phases; comparison of earth and lunar geology; Power Point presentation of physical features of planets; DVD – simulated mission to the Moon.
Water Ecology and the Diversity of Life – Small group investigation of pond water samples; search for pond life through a microscope; small group investigation of natural water filtration with soils; Power Point slides of energy transfer through wetlands food chains and wetlands as a water filtration system.  
DASEF offers several exciting science programs which can be brought to your school.  These lessons, which help meet Delaware State Science and Social Studies standards are an excellent way to supplement daily classroom instruction.  Each program can accommodate approximately 25 students at a time. 
Earth Walk, Planet Earth, and STARLAB require a cleared, open space for set up, such as a large empty classroom, auditorium, or gymnasium. The STARLAB is 12' high with a 16' diameter.  
Length: 40 minute classes, can schedule throughout one school day or several
Fee: $6  per student (minimum 40) + traveling fee of $.50/mile
Travel fees will be figured at the time of sign-up and added to the total fee.
Earth Walk
(4th – 8th grade)
Students will experience our Earth Walk, a 16′ X 20′ high resolution satellite image floor map of the continental United States. True life colors of mountain ranges, rivers, ocean coastlines, watersheds, and the other geographic features of our country, as well as superimposed state boundaries are featured. First, students see a presentation showing Earth's natural systems and land and water forms, then work in cooperative groups to locate and label examples of the geographic features on the Earth Walk map.
Planet Earth
(K – 8th grade)
Students will explore our 20×22 foot, inflatable globe learning about U.S. and world geography and their own place on Earth. The emphasis is on differentiating landforms and bodies of water, how humans interact with the natural world and how geography can and has been used to make decisions about human life.  From there, help develop an understanding of diversity in human culture, the unique nature of places, and viewing regions and the connections between them. 
STARLAB Planetarium 
(K – 8th grade)
Students will be taken out of this world in our inflatable planetarium, learning about the stars and constellations, as the night sky is projected above them. Lesson emphasis is on the circumpolar constellations and those currently visible in the night sky, the myths behind the constellations, and how students can find them from their own backyard. 
DASEF's Endangered Species
Using life-size, authentic inflatables, DASEF's Endangered Species programs have been developed to bring an awareness and an appreciation not only of the beauty and size of these magnificent creatures but also to present ways to safeguard habitats and work across international borders.
Have you always wanted to meet an endangered species? Are you teaching a lesson about preserving the environment? DASEF's host of life-sized inflatables add a wonderful visual aid to any such educational experience. Programs include activities associated with the environment, ecosystem, and biology of the selected species. Participants will make and take various creations, meet the endangered friend to compare their sizes and shapes, and learn more about how it lives and its habitat. Each inflatable can be brought to your location or hosted at our Environmental Outpost. Please be sure to check the list below for any size and space requirements.
Length: 1 hour
Fee: Please call for pricing information.
** All inflatables may be setup on the floor or carpet except for Wilmer the Whale, which requires enough
tables or surface area to support its length. **
For Teachers K-12
Educators Eyes on the Skies – April 30, 2019
Length: 4:30 pm – 7:30 pm
Where: Environmental Outpost
Instructor: DASEF Staff
Credit: 3 Re-licensure Hours
Fee: ???
Look back at the Earth and out into the Universe. Observe the stars in the Mountjoy  Observatory using DASEF's 16″ Meade Telescope. Construct and take home your own Galileoscope telescope ($60 value) and view the constellations and planets. NASA materials and resources will be distributed. Sponsored by DASEF and underwritten by Delaware Space Grant. A light dinner will be provided.
Wallops Flight Facility Forum – May 2, 2019
Length: 
Bus departs 6:30 am Friendly's on Route 896 in Newark
Bus departs 7:30 am behind Wendy's (old Walmart) Milford
Arrive Wallops for 9:30 am start until 3:30 pm departure
Expected return 5:30 – 6:30 pm depending on drop off
Where: Wallops Flight Facility
Instructor: DASEF Staff
Clock Hours: 5 Clock Hours
Fee: $30.00 refundable fee 
The State of Delaware has adopted the Next Generation Science Standards (NGSS) and, over the next year, will be transitioning to their use as the basis of science education in the State. Wallops Flight Facility is the premier location for conducting research using suborbital vehicles – sounding rockets, aircraft, and scientific balloons. The day will include a driving tour of Wallops Island launch pads to highlight the newest technological advances at Wallops. Speakers will present what they do at Wallops and give the group background information about the facility. Teachers will have a chance to tour the Wallops Educator Resource Center. 
To register, please e-mail Stephanie Wright at swright@udel.edu with the following information: in subject area please type Wallops, in the e-mail list name, school/district, grade & subject taught, home address, home, and cell phone numbers. 
It is suggested that you bring a snack for the bus ride.  You will need to bring money to cover your own lunch in the Wallops cafeteria.
Please send a check for $30, made payable to DASEF by April 15,  2019 to: Dr. Stephanie Wright, DASEF, 5 Essex Drive, Bear, DE 19701. The check will hold your seat on the shuttle and will be returned to you upon completion of the field experience at Wallops Flight Facility. Directions to the Outpost can be found at www.dasef.org  
Sponsored and coordinated by DASEF with assistance from NASA Space Grant & DSU
2019 Gaddard Space Flight Center Forum – Thursday May 16, 2019
Length: 
Shuttle departs 6:30am Friendly's on Route 896 in Newark
Shuttle departs 7:30 am behind Wendy's (Old Walmart) Milford
Arrive Goddard for 9:30 am start until 3:30 pm departure.
Expected Return 5:30 – 6:30 pm depending on drop off
Where:  Goddard Space Flight Center
Instructor/Coordinator: DASEF Staff
Clock Hours: 5 Clock Hours
Fee: $30.00 refundable fee
Sample agenda
9:30 am approximate arrival
Visualization Lab
Additional activities TBD
Lunch
1:00 – 1:30  Science on a Sphere
1:40 – 3:00  Tour of areas on the Goddard site
It is suggested that you bring a snack for the bus ride.  You will need to bring money to cover your own lunch in the Goddard cafeteria.
Please send a check for $30, made payable to DASEF by April 30,  2019 to: Dr. Stephanie Wright, DASEF, 5 Essex Drive, Bear, DE 19701. The check will hold your seat on the shuttle and will be returned to you upon completion of the field experience at Goddard. Directions to the Outpost can be found at
www.dasef.org
Sponsored and coordinated by DASEF with assistance from NASA Space Grant & DSU
Educational resources and curriculum materials are available for teachers only.
The purpose of a NASA Educator Resource Center is to help teachers learn about and use NASA's educational resources.
For more information, teachers can contact swright@udel.edu or call (302) 454-2432
Aviation

The Elementary Flight Simulators were built by retired Boeing employees and donated to the Delaware AeroSpace Education Foundation (DASEF) in 1994 and 1998. The primary goal of the program is to provide educators and their students with a quality, multi-disciplinary program for teaching and integrating the scientific process skills, careers, history of flight and transportation, engineering skills and the principles of flight. This will be achieved through the use of the elementary Flight Simulator and Hartel Trainer Program and the implementation of the accompanying curriculum materials.

The simulators give educators and their students a very real experience of an actual flight. As they move the control stick and use the rudder pedals, the simulator moves. It climbs, dives, rolls to either side, and yaws left and right, in response to the actions of the pilot.
The simulator has control surfaces, like a real plane, which move as different maneuvers are performed. There is a vacuum powered instrument panel. The students can see the effects of his or her control actions reflected in changes on this panel. Following the integrated, applied learning tasks and training sessions on the 10 Hartel Trainers, also supplied by DASEF, teams of students will be given time for a flight. The Aviation Program is supported by the Boeing Company, Delaware Space Grant Consortium and the Delaware AeroSpace Education Foundation.
Launching a Dream – STS 917-D
Launching a Dream was an annual, statewide, program that ran for ____ consecutive years. The purpose of STS 917-D was to show that Aerospace Education is a highly motivating framework for integrating STEM education and teamwork into the current curriculum, as well as encourage career choices based more on these fundamentals.
Two large school buses were converted into "shuttles" in which two crews, comprised of students from two participating schools, simulated pre, post, and in-flight shuttle activities. For several weeks, students set up experiments and collected data, learned technical flight procedures, and Their operations on launch day include an exchange of data between these two crews from long term experiments including: plant growth and comparison, animal behavior, water and soil testing, crystal growth, communication, and navigation skills.
Rockets for Delaware
DASEF, in conjunction with various state agencies, sponsored Delaware's Rockets for Delaware in Cape Henlopen State Park. Students and youth groups designed and constructed Rockets which were launched all throughout the day. The outdoor/tent event, featured displays, field amateurs and experts assisting in activities, and the launching of several different types of rockets. There were challenges and competitions held for varying age groups to construct a rocket, paint or add decals it, and then to successfully launch it. Some years, an official rocket team from Florida would travel to Cape Henlopen and launch a sub orbital rocket.